My latest single is an acoustic cover of the classic Rolling Stones hit "Time is on My Side". It is available now at
iTunes
,
Google Play
,
Groove Music
, and
other online music stores
.
Song of the Month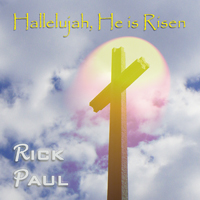 This month's featured song is "Hallelujah, He is Risen", an Easter song I wrote in 2012. The recording is from my 2015 single of the same name, and is available at popular digital music stores.
Recent News
For a complete list of news items going back as far as 1998, please visit the News Archive.
Recent Blog Entries
Back to the Sixties?

-

Anyone who's been paying attention to my digital single releases in the first quarter of this year may have detected a theme. In late January, I released my rock-flavored cover of Bob Dylan's iconic 1960s protest song, "Blowin' in the Wind". Early last month I put out a new recording of a song Ray Ducharme ... Read more
Coincidences

-

Have you ever had an experience where you were working on something at a particular time, partly due to a series of coincidences that "just happened" to make something convenient at that time, where that thing you were working on ended up feeling "just right" for that moment? I had one a couple of weekends ... Read more
Looking Backward, Looking Forward

-

Like many people, I set aside some time at the end of one year and the beginning of the next to review the year gone by and consider plans for the new year.  Some years are easier to review, or plan for, than others. Of course, plans can change at any point during the year, and ... Read more
For more blog entries, please visit the Blog.
---
Updated: April 1, 2017