My 2016 pop album,
In and Out of Love Again
, featuring love songs, breakup songs, and even a lust song, is available on CD at
Kunaki
. You can also find digital downloads at
Amazon MP3
,
iTunes
,
Tidal
, and
other online music stores
.
Song of the Month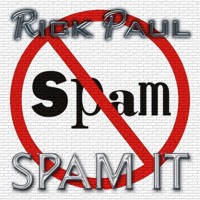 This month's featured song is "Spam It", a semi-punk-flavored rock song I wrote with Rob Stoecklein a decade ago. My day job in the I.T. industry includes daily spam fighting, and it's amazing to see that many of these references are still current with today's spammers. And, yeah, I still feel the same way about scumbag spammers! This recording is from my 2008 digital single. It is available in popular digital music stores.
Recent News
For a complete list of news items going back as far as 1998, please visit the News Archive.
Recent Blog Entries
¡Con Gusto!

-

When I took Spanish in high school, we learned that the response to, "gracias," ("thank you") should be, "¡de nada" (an expression translated as, "you're welcome," but literally meaning, "from nothing", with an intention along the lines of, "there's nothing to be thankful about"). It makes sense, I guess. I mean, it's kind of a ... Read more
The Mid-Year Break

-

Can you believe we're already halfway (plus a few days) through 2017? At the start of the year, my "Looking Backward, Looking Forward" blog, in addition to reflecting a bit on the year gone by, speculated a bit on what might be in store for this year. I'd alluded to some recording projects I had ... Read more
Story Behind the Song: "I Don't Pray Anymore"

-

My latest single, as of this writing (early May 2017), is a song I wrote over thirty years ago, in early 1987. That was before I was writing lyrics on the computer, and before I started keeping extensive notes of lyric drafts in progress, so it would be tough to recreate the history of the ... Read more
For more blog entries, please visit the Blog.
---
Updated: November 1, 2017