My 2016 pop album,
In and Out of Love Again
, features love songs and breakup songs set in a variety of pop styles. It is available on CD at
Kunaki
and for digital downloads at
popular online music stores
.
Song of the Month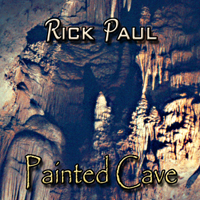 This month's featured song is "Painted Cave", an instrumental relaxation piece I wrote back in 2011. The recording is from my 2012 digital single, which is available in popular digital music stores.
Recent News
For a complete list of news items going back as far as 1998, please visit the News Archive.
Recent Blog Entries
A Belated Year-End/New Year Blog

-

I can't believe January 2018 is already more than half over! I'd originally intended to write a year-end/New Year blog on either New Year's Eve or New Year's Day, but then various projects I was working on those days took longer than expected. Then January 2nd arrived, and it was back to the day job, ... Read more

A Belated Year-End/New Year Blog

Thoughts on the Demise of Cakewalk

-

In an announcement dated November 17, 2017, but which only became public knowledge earlier this week, Gibson Brands, the company that is best known as a guitar maker (e.g. they make Les Paul guitars), announced that they were, "ceasing active development and production of Cakewalk branded products." The reason stated was, "to better align with ... Read more

Thoughts on the Demise of Cakewalk

¡Con Gusto!

-

When I took Spanish in high school, we learned that the response to, "gracias," ("thank you") should be, "¡de nada" (an expression translated as, "you're welcome," but literally meaning, "from nothing", with an intention along the lines of, "there's nothing to be thankful about"). It makes sense, I guess. I mean, it's kind of a ... Read more

¡Con Gusto!
For more blog entries, please visit the Blog.
---
Updated: April 1, 2018