---
Bio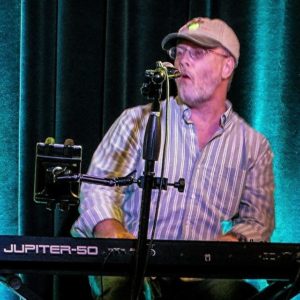 Rick Paul is an independent songwriter, singer, musician, music producer, and writer, originally from Schenectady, New York, now based in Orange County, California. His songs combine memorable pop/rock and country melodies with mature, often thought-provoking, lyrics on life and love. He has had songs recorded by independent artists from the USA, Europe, and Asia, including Little River Band lead singer Wayne Nelson, who recorded "Little Child Lost" back in 2000 to promote the Child Alert Foundation. In 2004, teenage pop singer Nominjin took "All I Need to Know" to Top 5 in Mongolia for both radio and video play.
Rick's first full-length album, Love Holds On, was released in July 2009. In reviewing the album, Janet Goodman of Music News Nashville indicated, "this Southern Californian artist has a unique whispering charm about his vocals that makes one take notice from the first warm note." Rick has also released several EP's and singles, including Make Me Feel, a 2008 duet project with Beverly Bremers ("Don't Say You Don't Remember").
Rick performs frequently in Orange County, California. His singing has drawn comparisons to Dan Hill, Don Henley, Randy Newman, and Neil Young, while his piano playing is most frequently compared to Rick's biggest musical influence, Elton John.
---
More Information
If you'd like to know more about my musical background and music business history, you may be interested in reading an in-depth interview Vadim Efanov of Russian music production company Virartech conducted with me back in March 2010.
---
Music Production Availability
In addition to performing and releasing my own recordings, I am available for working with other artists on their own recordings and live performances. Here are key attributes I can bring to your project:
40+ years of songwriting experience: I have had publishing deals, independent cuts, a few localized hits (e.g. a top 5 song for both radio and video play in Mongolia via pop singer Nominjin), songs used in churches and in theatrical productions, and more. I write in genres including pop, rock, country, adult contemporary, and folk. Please see the Songs page for sample lyrics and demo clips.
30+ years of home studio recording experience: Please see the Credits page for some highlights from the last decade and a half or so.
Multi-genre arranging and production experience: Please see the Store page on this site to get a flavor for some of my work. You can hear even more of my work on my Bandcamp page, as well as additional short clips on my Songs pages. In addition to the above-mentioned genres, I have touched on Celtic, classical, Dixieland, hip-hop-flavored pop, and more. I'm probably not the guy to hire if you're making a hip-hop or rap record. However, if you're looking for hip-hop flavors or beats, Celtic instruments or a string quartet, to spice up your country, folk, or pop record, I just might be your guy.
An extremely well-equipped, computer-based recording system: Thanks in part to my many years of writing music and audio production software reviews for the CakewalkNet e-zine, I've built up a set of tools that go both broad and deep — and I know how to use them. Check out the Equipment and Software page for more details.
50+ years of experience playing the piano and other keyboards: I started young! (I'm old, but not that old.) While I've also played other instruments (e.g. clarinet and saxophone, along with various percussion instruments, and a little bit of various other instruments here and there), I'm a much better keyboard player than anything else. Thus, I've also learned to emulate most other instruments, even guitars, by playing and programming the high-quality sampled instruments in my collection.
25+ years of drum programming experience: While I make the occasional venture into electronica and hip-hop, most of my songs fall into styles where I want the drums to sound real, as if they were played by a live drummer. Whether you want real- or programmed-sounding drums, I can meet your needs.
20+ years of song critiquing experience: I have extensive experience in providing in-depth song critiques, honing in on what is and isn't working in a song, especially at the lyrical level, and providing constructive ideas for improvements. They say hit songs aren't written, but rather are rewritten. Perhaps I can provide you some thoughts that will help you rewrite your future hit.
Perhaps above all, I will bring a consultative approach to your project to try to realize your creative vision. On the one hand, it is ultimately your project, and what you want to achieve must be foremost in the goals for the project. On the other hand, not everyone knows exactly what they want to achieve, and, even if they do, they may not know how to express it. My job is not only to try and understand what you want to achieve, but also to help you figure out what that is if it isn't already crystal clear in your mind. I don't want to make you sound like Mary Chapin Carpenter if what you're going for is a cross between Alanis Morissette and Bette Midler with a bit of "Eleanor Rigby" mixed in. We may have to go back and forth a bit to figure out just what all that means, but that is precisely the nature of what I would strive toward in helping you realize your vision.
Thanks for your time and consideration. I hope to be able to work with you in the near future.
---
Updated: March 1, 2019