---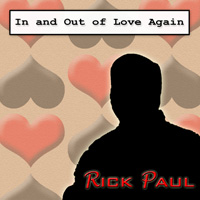 Buy
Stream
My third full-length album, In and Out of Love Again goes down a decidedly keyboard-based, pop-flavored road while exploring topics including falling in love, falling out of love, breaking up, commitment, and even lust. The recordings span a period from 2000 to 2016 and include a good deal of experimentation on the production front. I wrote the oldest of the songs back in the early 1980s while in college, with the rest emerging between the late 1990s and 2015.
Song List
(click title for lyrics)
Credits
Tracks 1-3, 5, 7, 9, 10, and 12 written by Rick Paul. Track 4 written by AGATA and Rick Paul. Track 6 written by Ray Ducharme, Vic Michener, and Rick Paul. Track 8 written by Laban Johnson and Rick Paul. Track 9 written by Mary Lou Sudkamp and Rick Paul. Track 11 written by Rebecca Hanneman and Rick Paul.
Performed, produced, engineered, mixed, and mastered by Rick Paul.
Cover artwork and photography by Rick Paul.
Related Media
---
Release Date: June 30, 2016