---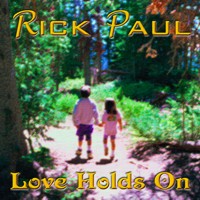 Buy
Stream
"According to singer/songwriter Rick Paul's MySpace profile, 'A song is a terrible thing to waste'; he lives by his word, generously offering twelve of them on his debut full-length CD Love Holds On. With styles ranging from retro rock to Celtic folk, this Southern Californian artist has a unique whispering charm about his vocals that makes one take notice from the first warm note." – Janet Goodman, Music News Nashville
Love Holds On was my first full-length album. It spans a 14-year period of my songwriting, with songs chosen to support a theme of holding onto love in various forms. Of course, there are the inevitable unrequited love songs, but those live alongside a song about spicing up a long-term marriage-with-children, songs that touch on the stories of departed loved ones, a song about long-term friendship, and even a song about the love of bringing music to an audience, wherever they may be.
Song List
(click title for lyrics)
Credits
Track 1 written by Rebecca Hanneman and Rick Paul. Tracks 2-3 and 6-8 written by Michael J. Parker and Rick Paul. Tracks 4-5, 9, and 11-12 written by Rick Paul. Track 10 written by Vic Michener and Rick Paul.
Performed, produced, engineered, mixed, and mastered by Rick Paul.
Cover artwork and photography by Rick Paul.
Related Media
---
Release Date: July 3, 2009