---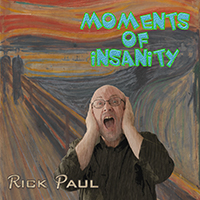 Buy
Stream
2020's was a crazy year, to say the least. Deciding to make this album was a bit of an impulse decision, and the title reflects a combination of factors, including the year itself, the short period between deciding to make the album and finishing it (including both compiling previous singles, remixing some tracks, and recording new tracks), the mix of genres (a bit of pop/AC, some country, some 60s flavors), and that each song has a connection of one kind or another, however tenuous, to some form of craziness. The album title comes from a line in the chorus of the song's opening track, "Stubborn Heart".
Song List
(click title for lyrics)
Credits
Tracks 1-3, 5, 7, 9, and 11 written by Rick Paul. Track 4 written by Michael J. Parker and Rick Paul. Track 6 written by Kathy Schaeffer and Rick Paul. Tracks 8 and 10 written by Ray Ducharme and Rick Paul. Track 12 written by Rebecca Hanneman and Rick Paul.
Performed, produced, engineered, mixed, and mastered by Rick Paul.
Cover artwork and photography by Rick Paul, based on Der Schrei der Natur by Edvard Munch.
Related Media
---
Release Date: October 30, 2020