---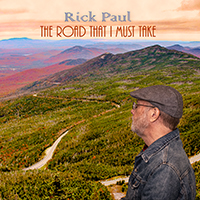 Buy
Stream
"The Road That I Must Take" is my fourth full-length album, and my third of all original songs. The title comes from the fourth track, "I Believe", from a section that reads, "now I see the road that I must take 'cause I see a difference I can make." While the album isn't a true concept album in that only two of the songs were written after plans for the album started taking shape, the album does have a loose theme relating to purpose and paths through life and love. This theme emerged, at least partly, due to various crossroads I had recently encountered in my own path.
Song List
(click title for lyrics)
Credits
Tracks 1, 2, 4-5, 7-8, and 10-12 written by Rick Paul. Tracks 3 and 9 written by Mary Lou Sudkamp and Rick Paul. Track 6 written by Derry Jones and Rick Paul.
Performed, produced, engineered, mixed, and mastered by Rick Paul.
Cover artwork and photography by Rick Paul.
Related Media
---
Release Date: August 2, 2019