---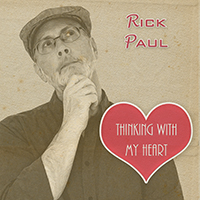 Buy
Stream
With "Thinking With My Heart", my sixth full-length album (and fifth of original songs), I've gone in what I'm referring to as a "country-ish" direction. "Country-ish" rather than "country"? Yeah, some of the songs are fairly clearly country pop or country rock, but there's also a smattering that are stripped down, in a singer-songwriter/folk sense, and even one that is a throwback to an early Elvis (Presley, not Costello) style. And I don't have a twang, so there's that.
The album's title comes from the first few lines of the first track: "Here I go, here I go again, thinking with my heart and not my head." There's a bit of a head versus heart thread that runs throughout. Most of the songs touch on love, unrequited love, or loss of love, but the closing track extends the head/heart theme to life purpose.
Song List
(click title for lyrics)
Credits
Tracks 1, 4, 6, and 9-12 written by Rick Paul. Tracks 2, 5, and 7 written by Michael J. Parker and Rick Paul. Track 3 written by Suzanne Wanvig and Rick Paul. Track 8 written by Ray Ducharme, Vic Michener, and Rick Paul.
Performed, produced, engineered, mixed, and mastered by Rick Paul.
Cover artwork and photography by Rick Paul.
Related Media
---
Release Date: August 5, 2022