---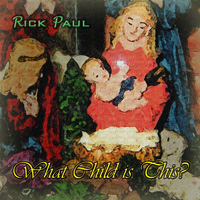 Buy
Stream
I have always loved Christmas music. Back in 2006, when I was trying to make a living as a songwriter, and had just released a 4-song EP called "That Time of Year" with four original Christmas songs, I began what would become an almost annual tradition. I recorded one of my all-time favorite traditional Christmas carols, "Away in a Manger", with the idea of offering it as a downloadable Christmas gift to family, friends, and acquaintances.
That first recording was a simple piano/vocal rendition, but, in the years that followed, I often used my annual Christmas recording production process to experiment with new "musical toys", as well to experiment with various production styles.
By 2014, I had a collection of seven recordings from 2006 through 2012. I missed 2013 due to a hectic year on the personal front alongside my full-time day job, but I also had another recording of a song that is often performed in a Christmas music context that I revamped in 2014 to fill in for the missing year, and I also added a brand new recording, making for a total nine songs. The final track was a slightly augmented remix of that original 2006 recording that fits better alongside the more elaborate productions of later years, thus comprising this 10-song album.
Song List
Away in a Manger (J.R. Murray)
The First Noel (Traditional)
O Little Town of Bethlehem (P. Brooks, L.H. Redner)
O Holy Night (J.S. Dwight, A.C. Adam)
I Heard the Bells on Christmas Day (Peace on Earth) (H.W. Longfellow, J.B. Calkin, R. Paul)
Silent Night (J. Mohr, F. Gruber)
Go Tell It on the Mountain (Traditional)
What Child is This (W.C. Dix, Traditional)

Ave Maria (F. Schubert)

Away in a Manger (Original Piano-Vocal Mix) (J.R. Murray)
Credits
The "Peace on Earth" section of track 5 was written by Rick Paul. (See the Song List for other songwriting credits.)
Performed, produced, engineered, mixed, and mastered by Rick Paul.
Cover artwork and photography by Rick Paul.
Related Media
---
Release Date: December 5, 2014