A big part of my early musical development was influenced by hymns and other church music. Somewhere around seven years of age, after having taken piano lessons from my mother since the age of four, I started teaching myself to play songs I heard in the new folk masses at the Catholic church my family attended regularly. My first paying job, in the fourth grade, was as a boy soprano in an all-male choir at an Episcopal church in downtown Schenectady's stockade section. We wore traditional English-style choir robes and sang traditional hymns. A bit later, somewhere around junior high or early high school, I got hired to play organ at a mass a week back at my own church, and became familiar with even more of the traditional hymns.
When we're talking about traditional hymns, we're generally talking about songs that have stood the test of time. For example, "Nearer, My God, to Thee" had its initial words written back in 1841, and its original music composed in 1856. The words for "Holy, Holy, Holy" date even earlier, back to 1826, and the music was composed in 1861. "Onward, Christian Soldiers" is a bit newer, with words written in 1864 and music composed in 1871. The words for "Amazing Grace" date back to Revolutionary War times, 1779, though the music wasn't composed until 1831. We're talking songs that have survived 150-200 years in many cases! I can only hope some of my songs will be around that long into the future.
Being a fan of many traditional hymns, I've often considered the notion of recording an album of my favorite hymns with modern arrangements. I'm pretty slow on the production front, though, not to mention perennially behind in recording even my own original songs. Thus, the notion has never gotten off the ground, and just remained one of those things on my list of things to do … "someday".
Early last year, though, I heard that an LA-based independent record label, Goodnight Kiss Records, was looking for creative covers of traditional hymns. This was going to be for a multi-artist album, so I could try just doing one and leave it to other artists to fill out the album. At the very least, I'd end up trying out some of my ideas on modernizing one of my favorite hymns, and end up with a recording of that. Maybe if things went well, though, I might even make the cut and get the recording out to the world at some level.
One catch was that I was in the middle of some deadlines at the time. By the time I got around to being ready to actually try doing something, time was getting very short — less than a week. For perspective, I often take up to a month to get a full production done. I also didn't know what hymn I'd pick, because there were so many I liked. I initially whittled my big list down to four possibilities. From memory, I think they were "Crown Him With Many Crowns", "Holy, Holy, Holy", "The Church's One Foundation", and "Onward, Christian Soldiers". Decisions, decisions…
It came down to deadline pressure, and that the first hymn on my shortlist that gave me an arrangement idea I felt was fresh enough was "Onward, Christian Soldiers". At the time, I was hearing the Arctic Monkeys' breakthrough hit, "I Bet You Look Good on the Dancefloor" all the time, and I was, more or less, envisioning someone with a voice and attitude like that being something like a modern Salvation Army recruiter. To be quite frank, I'm a pretty bad imitator. (I tell people that's what makes me an original.) Thus, I don't think it came out anything like an Arctic Monkeys song, but, if it sounds a bit different from some of my usual fare, you've got an idea why. Putting in some all nighters, I did get the initial recording of the song finished by the original deadline. Thankfully, that deadline also got extended, which allowed me to refine the recording a bit more after my initial submission.
To make a long story short, I heard fairly quickly that my recording was on the short list for the album. After that, much time passed waiting for additional submissions to fill out the album, waiting for final decisions, waiting for contracts, waiting for mastering, graphics, manufacturing, and all the other stuff that goes into producing a quality album of this sort. I'm happy to report, though, that the album is finally here, and the wait was most definitely worth it.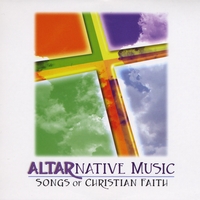 The album is called ALTARnative Music: Songs of Christian Faith, and you can listen to 2-minute clips of all twelve songs on the album, and purchase CD or MP3 downloads of the album at CD Baby. It is also already available at iTunes, but the song clips there are only 30 seconds apiece, so I recommend checking it out at CD Baby. The full list of songs and performers is as follows:
1. Nearer My God To Thee – Nine Stick
2. Jesus Loves Me – Johnny English
3. Just As I Am – Peter Ivanovich Sahaidachny
4. Holy, Holy, Holy – Heather and Andie Duncan
5. Were You There – Joe Uveges
6. Rock Of Ages – Kimberly McManus
7. Blessed Assurance – Breath To Bones
8. This Little Light – Jaye Walker
9. How Great Thou Art – Cathy Kent
10. Onward Christian Soldiers – Rick Paul
11. Amazing Grace- Shay Dillon
12. Somebody Up There – Vaughan Ray Daniel
If you've only got time to check out a few tracks after you've checked out mine (hint, hint), I might recommend Nine Stick's version of "Nearer My God to Thee" and Joe Uveges' "Were You There" as starting points. These are a couple of my personal favorites after my first four or five listens to the CD. (If you're getting the idea I really like this CD, feel free to give yourself a pat on the back for your amazing powers of observation.) However, I heartily recommend listening to the whole thing, as every track is solid, and there are a lot of great singers on this album, too.
If you do check it out, please let me know what you think. If you like it, perhaps you could also pass the word on to any others you think might enjoy it.