---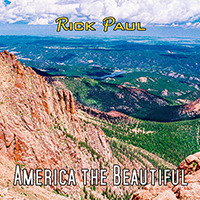 Buy
Stream
"America the Beautiful" has long been one of my favorite patriotic songs, especially in Ray Charles' soulful renditions of the song. I've performed the song occasionally on the live front, and I'd been considering recording it at some point. When an opportunity seeking a replacment for a specific live performance of the song by Charles, but sticking closer to the traditional melody and arrangement, arose in early 2021, I thought I'd give it a shot. This recording is the result.
As soon as I decided to put this recording out as a single, I knew which photo I wanted to use on the cover. The history of the song mentions Katharine Lee Bates' being inspired, in part, by the view of the majestic view of the Great Plains from on top of Pike's Peak outside Colorado Springs. During a 1995 road trip, I drove up to the top of Pike's Peak with my family. While it was too cloudy to get a useful view up on the top, I managed to get a photo of a pretty spectacular view on the way down. It has always been one of my favorite landscape photos, and it's reminded me of the song due to the historical association of the lyric with Pike's Peak.
Songwriter(s)
Katharine Lee Bates
Samuel A. Ward
Credits
Performed, produced, engineered, mixed, and mastered by Rick Paul.
Cover artwork and photography by Rick Paul.
Related Media
---
Release Date: May, 28, 2021