---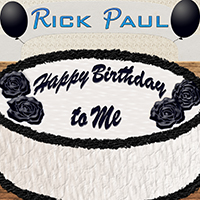 Buy
Stream
Kathy Schaeffer and I wrote "Happy Birthday to Me" back in 1998, and I've often played it in my birthday month of July in the years since. Since I didn't have the opportunity to play it live in public in 2020 due to the COVID-19 restrictions, I thought it would be fitting to record this depressing song about celebrating a birthday alone in time to release it on my 60th birthday. I guess you could call it either an impulse recording or an inside joke, or maybe a bit of both.
Songwriter(s)
Kathy Schaeffer
Rick Paul
Credits
Performed, produced, engineered, mixed, and mastered by Rick Paul.
Cover artwork by Rick Paul.
---
Release Date: July 28, 2020