---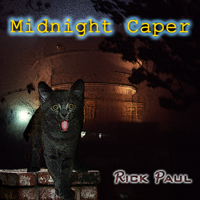 Buy
Stream
Picture yourself in a 1960s spy comedy. Your mission, should you choose to accept it, is to save the world while getting the girl, bumbling enough along the way to make people laugh. Meanwhile you'll be doing this to the accompaniment of reverb-drenched guitars and brass. Stay cool, but not too cool (or it wouldn't be funny enough). This promotional blurb will self-destruct in 60 seconds.
Songwriter(s)
Rick Paul
Credits
Performed, produced, engineered, mixed, and mastered by Rick Paul.
Cover artwork and photography by Rick Paul.
---
Release Date: July 11, 2012