---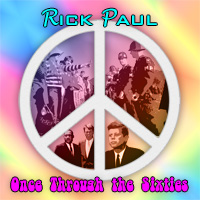 Buy
Stream
Reminiscing with some 1960s-flavored rock, but not wanting to go back to the 60s.
Songwriter(s)
Ray Ducharme
Rick Paul
Credits
Performed, produced, engineered, mixed, and mastered by Rick Paul.
Public domain cover photographs by Albert R. Simpson (Department of Defense), Abbie Rowe (White House Photographs), and Cecil Stoughton (White House Photographs). Cover artwork by Rick Paul.
Related Media
---
Release Date: March 9, 2017