---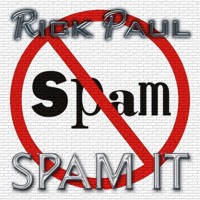 Buy
Stream
This is a rant about spam, that scourge of e-mail user's existence. Rob Stoecklein and Rick Paul wrote this over the internet — what else. They were sick of spam, and just wanted to rant about it. 'Nuf said! Rick's usually a pretty mellow singer who gets compared to people like Dan Hill, Dan Fogelberg, Randy Newman, and the like. Not here. Rob was calling him Rick Ramone after hearing this recording.
Songwriter(s)
Rob Stoecklein
Rick Paul
Credits
Performed, produced, engineered, mixed, and mastered by Rick Paul.
Cover artwork by Rick Paul.
Related Media
---
Release Date: August 29, 2008