---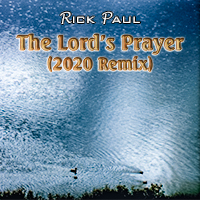 Buy
Stream
This is a brand new (in June 2020) remix of my adaptation of the classic prayer. While the song (original music and slightly tweaked lyrics) goes back to the early 1980s, it was only publicly performed a couple of times prior to this millenium. The first time was in the church I attended back in college in Potsdam, New York. Then my brother sang it at my wedding in the Los Angeles area in 1983. It pretty much sat on the shelf after that, but I broke it out again after the most recent Iraq war started. It just felt right at the time, and, despite the secular settings, mainly bookstores and coffeehouses, it was quite well received, so I decided it was time to record it. I finished the recording and released it in 2006. My production tools and techniques have come a long way since then, so I thought it was about time for an updated version.
Songwriter(s)
Rick Paul
Credits
Performed, produced, engineered, mixed, and mastered by Rick Paul.
Cover artwork and photography by Rick Paul.
---
Release Date: June 26, 2020