---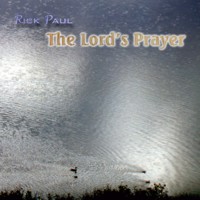 Buy
Stream
This 3-track single features an adaptation of the classic prayer I wrote back in college somewhere around 1981 or 1982. The extra tracks include an instrumental tracks only version and an instrumental tracks plus background vocals version to make it easy for you to sing this song in your church, living room, or wherever else you may be so inclined.
While the song goes back to the early '80's, it was only publicly performed a couple of times prior to this millennium. The first time was in the church I attended back in college in Potsdam, New York. Then my brother sang it at my wedding in the Los Angeles area in 1983. It pretty much sat on the shelf after that, but I finally broke it out again after the second Iraq war started when I was playing at various bookstore coffeehouses. It just felt right at the time, and, despite the secular setting, it was quite well received, so I started doing it regularly. I've also heard of its being performed by singers in at least a few churches in other parts of the country since then.
Songwriter(s)
Traditional lyrics
Music and lyrical adaptation by Rick Paul
Credits
Performed, produced, engineered, mixed, and mastered by Rick Paul.
Cover artwork and photography by Rick Paul.
Related Media
---
Release Date: May 23, 2006